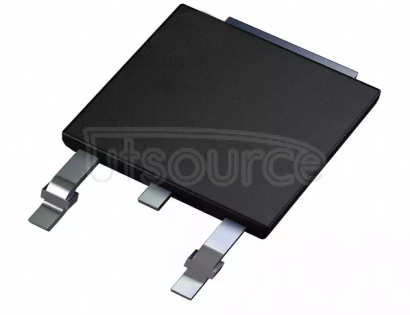 IRFR5505TRPBF
MOSFET P-CH 55V 18A DPAK
La Encapsulación:

TO-252

Marca:

International Rectifier

Código de fecha:

17+

Tipo de canal:

P

Corriente máxima de drenaje continuo:

18 A

Voltaje máximo de la fuente de drenaje:

55 V

Resistencia máxima de la fuente de drenaje:

110 mΩ

Voltaje máximo del umbral de la compuerta:

4V

Voltaje mínimo del umbral de la compuerta:

2V

Voltaje máximo de la fuente de la compuerta:

-20 V, +20 V

Tipo de paquete:

DPAK (TO-252)

Tipo de montaje:

Surface Mount

Configuración del transistor:

Single

Recuento de pines:

3

Modo de canal:

Enhancement

Categoría:

Power MOSFET

Disipación de potencia máxima:

57 W

Anchura:

6.22mm

Cantidad de elementos por chip:

1

Capacitancia de entrada típica @ Vds:

650 pF @ -25 V

Tiempo de retardo de apagado típico:

20 ns

Temperatura de funcionamiento mínima:

-55 °C

Longitud:

6.73mm

Dimensiones:

6.73 x 6.22 x 2.39mm

Material del transistor:

Si

Serie:

HEXFET

Tiempo típico de retardo de encendido:

12 ns

Altura:

2.39mm

Cargo típico de puerta @ Vgs:

32 nC @ 10 V

Temperatura de funcionamiento máxima:

+150 °C
Ventas0
39
Produtos totales: 621
Ventas totales: 1234
Average lead time: 0 horas
Tiempo de envío (Express): 42
Tiempo de envío (Correo postal): 1
Favorita
Todos los nombres de productos, marcas registradas, marcas y logotipos utilizados en este sitio son propiedad de sus respectivos dueños. La representación, descripción o venta de productos con estos nombres, marcas comerciales, marcas y logotipos es solo para fines de identificación y no pretende indicar ninguna afiliación o autorización por parte de ningún titular de derechos.
Ofrecemos productos de alta calidad, servicios pensados en el cliente y garantía post-venta
Tenemos productos de calidad que se ajustarán a sus necesidades.

La cantidad mínima del pedido es de una pieza y el valor del pedido debes ser superior a 10.00$US

Los envíos internacionales más baratos, comienzan en 2.00$US (para direcciones registradas)

Garantía de calidad de 60 días en todos los productos
Una gran variedad en nuestro inventario, puede encontrar cualquier componente electrónico de las principales empresas del mundo
Variedad de métodos de pago
Variedad de opciones logísticas, rápidas y baratas
USA / Canada / Mexico

Europe

Australia / New Zealand

Asia

$ 18.00 $ 18.00 $ 18.00 $ 8.00~ 18.00
$ 4.00 $ 4.00~$ 5.00 $ 4.00 $ 4.00
Fedex gratis para pedidos superiores a $99.9
Correo postal gratis para pedidos superiores a $29.9
Utsource FBU service
Utsource es una plataforma online de componentes electrónicos de todo el mundo que reúne a muchos proveedores increíbles. Utsource ofrece un servicio FBU (Fulfillment by Utsource), un servicio integrado para usuarios SME (Small and medium enterprises). Características gran efectividad, muy rápido, seguro y conveniente.
Eficiencia alta
Velocidad alta
Seguridad
Conveniente
FET type P channel.
Technology MOSFET (metal oxide)
Leakage source voltage (Vdss) 55V.
- continuous drain current (Id) (at 25 ° C) 18 a (Tc)
Drive voltage (maximum Rds On, minimum Rds On) 10V.
Vgs (th) (maximum) (maximum) 4V 250 m A.
Grid charge (Qg) (maximum) 32nC 10V for different Vgs.
Voltage Coupled to Gate Charge (Qg) (Max) Vgs 10V.
Vgs (maximum) plus or minus 20V.
Input capacitance (Ciss) at different Vds (maximum) 650pF 25V.
Voltage Coupled to the Input Capacitance (Ciss) 25 v Vds (Max)
FET function -
Power dissipation (maximum) 57W (Tc)
Different Id, Rds On (maximum) 110 millio 9.6A, 10V at Vgs.
Working temperature and 55 ° C to 150 ° C (TJ)
Install type surface mount.
The supplier device encapsulates d-pak.
Package/shell TO-252-3, DPak (2 lead + patch), sc-63.
Método de pago
Método de pago internacional
Paypal US $0.00

Credit Card US $0.00

Amex US $0.00

Wire Transfer charge US $15.00 banking fee.

Moneygram US $0.00

Western Union US $0.00
Método de pago europeo
Sofort US $0.00

Eps US $0.00

Sepa US $0.00

onlinebetalen US $0.00

Bancontact US $0.00

Mybank US $0.00

YandexMoney US $0.00

QIWI US $0.00

WebMoney US $0.00

Dotpay US $0.00

P24 US $0.00

Payu US $0.00

Turkish Credit Bank Card US $0.00
Método de pago americano/asiático
Boletol US $0.00

Itau US $0.00

OXXO US $0.00

Banamex US $0.00

Bancomer US $0.00

Santander US $0.00

Spei US $0.00

Paytm US $0.00
Embalaje
Paso1:Productos

Paso2:Ponerse en el tubo

Paso3:Embalaje antiestático

Paso4:Caja de embalaje

Paso5:Etiqueta del código de barras del transporte
OPCIONES DE COMPRA
Estado de existencia: 49100
Mínimo: 10
Añadir al carrito de compra
Precio Total:
Precio unitario:13.87746
Produtos totales: 621Ventas totales: 1234
Cálculo de flete
Correo postal: (HKPOST, BPOST, China Post)
Envío gratuito para los primeros 0.2kg para pedidos superiores a Mex $576.00
Correo Express: (FEDEX, UPS, DHL, TNT)
Envío gratuito para los primeros 0.5kg para pedidos superiores a Mex $1920.00
Calcula Costo de Entrega